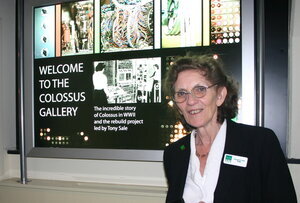 I am sad to say the Margaret Sale died recently. She and her husband Tony were instrumental in saving the Bletchley Park site and helped to create what is now the country's most important museums for WW2 code-breaking. Made famous through various films and life stories of Alan Turing.
She and Tony also worked tirelessly with the National Computing Museum (on the same site as Bletchley).
I was fortunate to have met both of them, Tony, when he gave a presentation to an IAP Symposium, and a few years ago I was at the NCM and had an interesting chat with Margaret about the computing museum.
https://www.tnmoc.org/news-releases/2020/3/26/margaret-sale-1932-2020